SavATree merges with Swingle Lawn, Tree & Landscape Care
SavATree merges with Swingle
Bedford Hills, NY – October 10, 2017 – SavATree, a leading provider of quality tree, shrub and lawn care services, announced a merger with Denver-based Swingle Lawn, Tree and Landscape Care, thereby solidifying its leading position in the Colorado marketplace.
This merger is the Company's second in the Colorado market this year, and aligns with SavATree's strategic growth plan. Earlier this year, SavATree merged with Denver-based Mountain High Tree, Lawn and Landscape. The combination of the successful Mountain High and Swingle brands, under the SavATree canopy, will provide customers and employees with greater resources and opportunities to benefit from environmentally minded services that preserve, beautify and enhance properties in the region.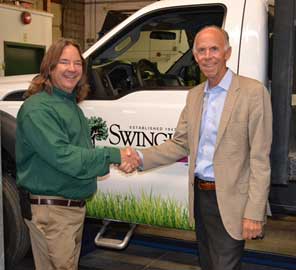 Founded in 1947, Swingle is an innovative, respected and customer-focused organization that has grown to become the leader in residential and commercial lawn care, tree service, and holiday lighting in the Front Range of Colorado. Swingle CEO, Tom Tolkacz, stated, "As we considered the best opportunities to move the company forward, we wanted to entrust the business to a company with similar core values and high quality standards. SavATree was without a doubt the best option. By sharing similar philosophies as it relates to our customers, community and team members, I am confident our clients will continue to receive expert service and our employees will have even greater opportunities with this best-in-class employer."
SavATree has been caring for properties throughout the Western region, Mid-Atlantic, Northeast and Midwest for over 30 years and has built a reputation for excellence among its clients and within the industry. Daniel van Starrenburg, SavATree CEO, remarked, "Our growth is largely a reflection of SavATree's reputation in the communities we serve and within our industry. We are excited to welcome the Swingle team to the SavATree family. By unifying our similar cultures and building density in the Colorado marketplace, we see great benefits for both customer landscapes and employee opportunities. SavATree is passionate about the care of landscapes and delighted to partner with a company with such a rich history and commitment to the environment."
---
About SavATree
SavATree, the green choice for tree, shrub and lawn care, provides environmentally sensible services to residential, commercial, community and government properties in the Northeast, Mid-Atlantic, Midwest and Western regions. Property stewardship programs feature organic and hybrid plant health care, general tree care and lawn care – all highly customized to meet the needs of each landscape and its steward. Services include tree and shrub pruning, insect and disease management, deer deterrence, and lawn care, as well as tree and shrub nutrient/fertilization programs. Learn more at www.savatree.com.
Company Contact:
Luann O'Brien, Vice President, Marketing & Sales
SavATree
914-241-4999 / [email protected]